Tip*
Apply a custom banner, tracker and soulmate image on your Felvargs official import database page.
Anrach (ID #6529) - Thunderwolf2113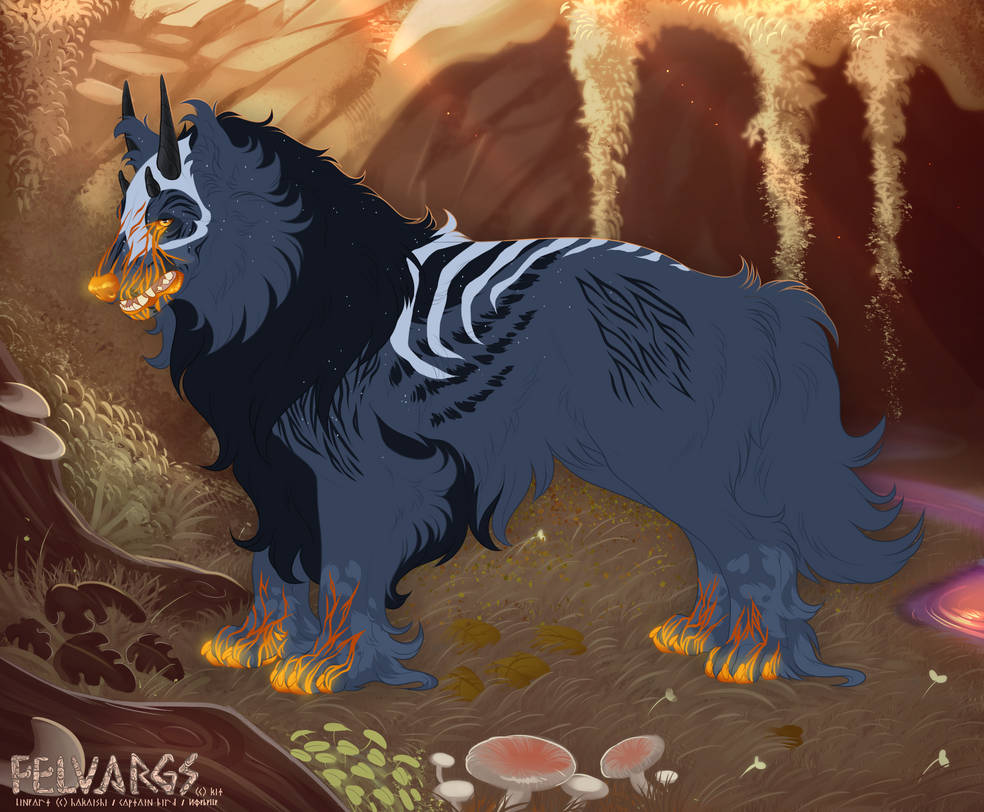 Name: Anrach
Nickname(s): Halloweenie
Health Status: Healthy
Age: Adult
Gender: Male
Soulmate: Unknown
Height: 160cm
Weight: 800lbs
Build: Standard
Coat type: Satin
Genotype: ss/cr/br/Bk/Mm/Sa/Ske/Dt/Trs/Spl/Bar/SLA/CRK/Fro
Phenotype: Frost Black with Maned, Saddle, Skeletal, Dusted, Tears, Splatter, Barring, Slash, Crackle
Mutations:
Physical Mutations: None
Horns: Imperial (u)
Hierarchy Level: 1/6
Passage of Courtship: 2/2
Pack:
Reference:
ACHIEVEMENTS (10) Points: 75










Personality:
Lineage:
DSS: Unknown
DSD: Unknown
DDS: Unknown
DDD: Unknown
Level One
You and your soulmate have not currently unlocked any bonuses in this level.
Level Two
You and your soulmate have not currently unlocked any bonuses in this level.
Level Three
You and your soulmate have not currently unlocked any bonuses in this level.
Level Four
You and your soulmate have not currently unlocked any bonuses in this level.
Level Five
You and your soulmate have not currently unlocked any bonuses in this level.
Anrach's Tracker
Official Tracker
Tack (1)
Standard Fishing Pole - 5% chance to return more valuable items while fishing.
Companions (0)
Traits (0)
0/6 Rare Traits
0/5 Legendary Traits
Backgrounds (1)
Import Background Set: The Great Maw
Cosmetics (0)
Titles (0)
Faegir Clan (War)
Nadhir Clan (Peace)
Visindi Clan (Knowledge)
Setja Clan (Power)
Faegir Clan (War)
Lead by the brave and powerful Nar, the Faegir clan is made up of well seasoned warriors and battlemasters big and small. Faegir has it all, brains, brawn and rustic good lucks as well as a mean knowledge for all imaginable weapons. Nar instills within his band of Felvargs that war is not to be feared, nor is it to be glorified; it is simply to be expected and it is his given duty to prepare those who will listen to what he believes is the inevitable. The warrior king opens his arms to any willing to prepare themselves for disputes to come, those who embrace the fact that war made them the beasts they are today. Nar believes he needs to prepare himself and his loyal clan for an upcoming war in which the blood curse placed upon them by the spiteful God Loki will be broken, returning them to their true human forms. Surely this is just a myth, but it is something the clan believe in strongly.
"Strength is all well and good, but a felvarg should also know how to lose graciously. Prove to me you can lose and still be respectful."

Nar nods you over eagerly, "You there!" His voice is stern and confident, "We have been tasked with tracking a beast across the pond, but this particular beast has a keen scent. It will smell us a mile off." Nar seems to take a moment to ponder, "Fetch us some Garlic and a Mortar Bowl, this should help us mask our scent."

You see Nar pacing upon the shoreline tasking Felvargs to return supplies to a nearby ship that has been damaged. This particular ship is used to scout the local shores for approaching dangers. Eagerly you approach him, and eagerly Nar provides you with a list of necessary parts to aid in the ship's repair. Bring the parts Nar needs to hopefully increase his trust in you.

The frigid nights close in and Nar will not standby as his pack battles the cold unprepared. Other Felvargs may whimper away from such a task but Nar believes his clan is more than capable of such a challenge. Everyfel within his ranks has contributed to the chilling grip of winter. It seems he expects no different from you based on how he studies you curiously before the campfire. Traverse the lands in search of three Heavy Hides to contribute to Nar and the clan you hope someday to be respected within.

Nar walks beside you as each step he takes beams with pride, he never makes eye contact with you but still his words burn right through you, "We are many, Friend. Strong, prepared, and strategic if nothing else." You trot a few beats to keep up with Nar's confident stride, "There are traps surrounding the village, but we dare not supply them with meat we have gathered to feed our own. These parts are not safe to those who travel alone and so there is plenty of rotten meat to use as bait instead." Nar had a good point. Bring Nar five Rotten Meat Scraps, so that you can spring Faegir's traps.

You see Nar and a few other Felvargs huddled together as they debate fluidly. They are speaking of a Felvarg named Ovkar and Nar seems to believe this very Felvarg who has not been seen for hundreds of years once commanded an ancient and revered war beast known as Orvar. As an outsider your worth seems to be challenged more so than most, "Rumors say he used a walking stick and without it the beast Orvar would defy him," Nar narrows his eyes curiously at you, "They say it's top is carved in the shape of a dragon wielding the power Ovkar used to command Orvar. Surely you've heard of this story given it originates from your homeland?" You have a sudden moment of realization, you have seen this very walking stick for sale within The Clay Carriage in Sandfel. Real or fake bring Nar this ultimate gift to attempt to earn his favor. Even if you were raised to see it as a mere campfire story.

You trot into camp and you are immediately met with chaos, hellhounds have arranged an attack in an attempt to steal resources Nar and his pack had gathered. Taken by surprise but equally equipped to handle such a strike, Nar takes on 3 large hellhounds in the camp's center and despite being a mere dwarf he handles his own. Just as Nar wards off two of the beasts the third sneaks up on him, as Nar turns it is far too late to react but you find the bravery to leap upon and kick the hellhound disrupting his blow upon Nar. Nar is impressed by your bravery, and for the first time he lowers his head to you in thanks. What an honor to have Nar bow before you, it takes you a moment but then you realize the entire clan too has lowered their heads. You most definitely impressed Nar today.

"Urgh. The rain makes my joints ache, but I need to deliver an important message. You do not mind a little cold, damp weather, do you? Travel there and report back with their response."

Nar stands beside a fire, grumbling under his breath. "All out of tea. I have no idea how I will get through my meeting with the other royals later without it. Last time I just about bit off Bleza's head. Do you happen to have time to get some? Herbal, calming... add a splash of mead and it can turn a raging bear into a bunny rabbit. Eh? No, I did not just call myself a rabbit. Get out of here!"

"Isa has played his tricks on me for the last time!" Nar is in quite a fury, slamming his paw onto the table before him to punctuate his sentence. There is a determined glow in his eyes. "Find and teach that sly wretch a lesson for me."

Nar is overlooking his camp when you approach. "Say... does this look a little bland to you?" He doesn't give you a chance to respond before answering his own question. "I think we need some more decor around here. Something daunting that shows we mean business!"

"Shh, no questions! You want to prove yourself to me, eh? There is something I have been wanting. I have heard about a potion that never fails to surprise even the most jaded souls. Green glass bottle, terrible taste. You drink it and wake up somewhere random. Have you tried one before? Bring one here, will you?"

"Hey! I have come up with a perfect money-making scheme. Have you heard of Varglotto? Yes, just buy 10 tickets. Trust me! You will win for sure." There is a suspicious glint in his eyes. You get the feeling he is trying to get you in trouble.

"Ahh, foxes. Crafty things, do you agree? I would wager that the foxes here are much brighter than any you have hunted in Ulfrheim. Bring some of your pelts here and we can compare their colors."